Our fishing charter trips are for parties of 2 - 6 people. Trip lengths range from 3 - 7 hours depending on which trip is chosen. We operate two charter vessels which provide greater flexibility and allow us to book larger parties (greater than 6). The size of your party will determine which boat you will be on. Both vessels offer heated cabins and bathrooms. Free parking, restrooms, and complimentary coffee are available at the marina upon check-in.  We offer a 10% discount for police and active duty military.  At Highliner, groups of 4 or more are guaranteed a private charter.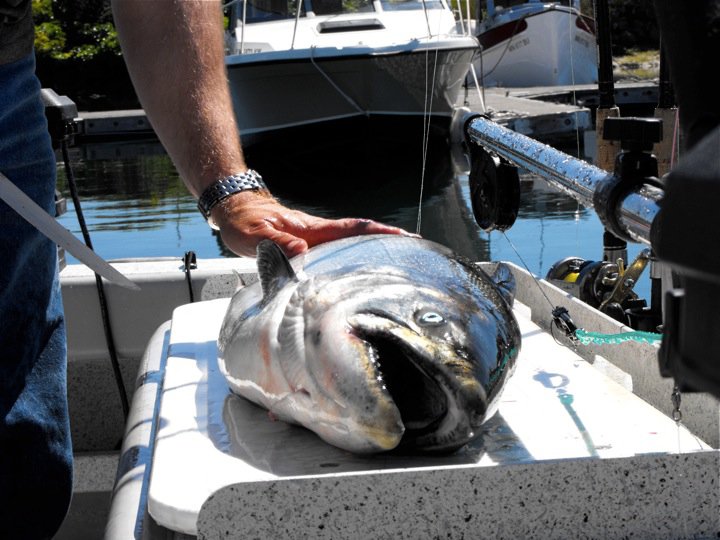 Our Skagit River coho season begins Oct 15th and runs through Dec 31st. These trips involve a 6-7 hour float down the Skagit or Sauk River in a drift boat fishing with spinning rods. The rates are $270 per person. We operate two boats and can accommodate up to 4 persons (two per boat).

For the winter of 2024 (Feb - April), we will be offering steelhead and trout trips on the Skagit and Sauk Rivers. These trips are catch-and-release and last between 6-7 hours. You will be casting spinning rods from a drift boat or river raft.  We have two boats ( a 13' Stealthcraft drift boat and a 12' river raft). Both boats carry 2 passengers plus the guide.  All rods and tackle are provided. It is recommended you bring waders (or hip boots), and rain gear.  The rate is $270 per person.

Our 2023 chinook salmon season is Aug 16th - Sept 30th. These trips are available to private parties of 4 or more and must be specifically requested. Trips launch at first light and 2 pm. The rate is $295 per person.

Our 2023 Coho and Pink Salmon season begins on Aug 1st and runs through Sept 30th. Trip lengths are 6-7 hours launching at first light and 2 pm. The rate is $295 per person. 
Our 2023 Deception Pass coho trips will run Sept 1st - Sept 30th. Trips last 4-5 hours and launch times are tide-dependent. The rate is $250 per person
For May-Sept, we will offer light tackle bottom jigging trips which will target cabezon and greenling. These trips are very popular in that each person is constantly engaged while jigging. Trips are for 3 hours launching at 9 AM and 2 PM. The rate is $200 per person (additional charges apply for added activities). 
Private Charters
1- 4 people: $1180
5 people $1475

6 people: $1770
Private all-day salmon charters are available for the rate of $2360. This allows you to determine your own departure and return times.
One-day fishing licenses can be purchased from us on the day of the charter for $10. This rate applies to residents and non-residents alike. 

Singles will be added to an existing charter. So for you guys or gals who like to fish but can't find friends or family to come along, give us a shout and we'll likely fit you in.

We do offer inter-island service. The location we are currently fishing will determine the pick-up and drop-off fee.  Please call as we can arrange pick-ups at most docks within the Islands.
As our basic service, we will fillet and bag your fish. If you would like your catch processed we can vacuum pack, freeze, and ship your fillets.  See our 'processing and handling" drop-down menu for details.

To make a reservation call :

(360) 770-0341. Or you can send me an email at This email address is being protected from spambots. You need JavaScript enabled to view it.
Highliner Charters requires a 50% down payment to hold the reservation. Full payment is due the day of the charter and we prefer cash for the balance so plan accordingly.

To change a reservation, please call as soon as possible so I can do my best to reschedule you.
To cancel a reservation, call at least 14 days prior to the trip's scheduled departure time.  Cancellations under 14 days will result in a forfeit of your deposit unless I can fill the vacancy. Additionally, cancellations within 48 hours of the trip, or no-shows the day of, will result in a full charge being applied to the credit card which held the deposit. (All cancellations are subject to a $20 processing fee).
Reservations made within 48 hours of the charter require full payment at the time of the booking.
For parties of 5-6 persons, the balance is due two weeks prior to the charter.
Reservation of both our boats requires full payment at the time of the booking.

Any "no-shows" on the day of the charter will result in a full charge to the credit card which held the reservation.
We DO NOT take checks, Discover, or American Express.

Alcohol Policy: This ain't no booze cruise! If getting drunk while fishing is in your plans, perhaps a different charter outfit would be a better fit.

For afternoon trips (defined as trips that do not launch at first light) alcohol possession/consumption is strictly prohibited.  
For morning trips, beverages that exceed 5% alcohol by volume are strictly prohibited. Hard alcohol is never permitted.

Should the captain determine that any one person on the vessel is drunk, the trip will be terminated. He will return the boat to the dock. No refunds will be afforded. If a passenger shows up already under the influence of alcohol, they will be turned away and considered a no-show and forfeit the price of their charter.